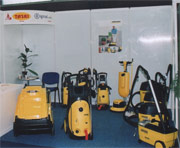 Welcome to TASKI
Full Cleaning Service Company
"TASKI" founded in 1995, offers a new concept in full cleaning service.
We offer professional, reliable service, utilizing the latest generation of cleaning equipment: (WAP,COLUMBUS,TASKI,KARCHER). We exclusively utilize imported chemicals and cleaning agents from world renown companies (Henkel, Pitura, Helios), ensuring that the cleanlines of your facility reaches new dimension.